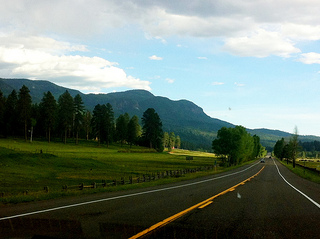 Where Are You? Course Corrections On The Path To Your Life Vision
By: Lori Thayer
Once you have a life vision, the next step is to assess where you are. In a previous article we covered several ways to create a life vision. Determining where you are in relation to the vision of life you want  is necessary. Only by knowing where you are in relation to what you want can you begin to make the course corrections necessary to reach your life vision.
Review Your Life Vision
How Close Are You To That vision in the following areas. List a number from 1-10 for how close or how far you are from the vision you have, 1 being really far from what you want and 10 being really close.
Start with these general areas:
Career – How do you envision yourself earning an income? Is your current job similar to this vision
Relationships – What type of romantic relationships do you want? How do you want to relate to your kids and friends? Are your current relationships like this life vision?
Financial – What do your ideal finances look like? How close or far or you from this vision?
Home life – What type of home, decor, or environment would be perfect for your life vision? How close is your current situation to your goal? 
Activities – How would you spend your free time and are you currently close to that vision?
Now think about what your vision is each each of these areas and where you are now. What needs to change to bring the reality closer to your life vision?
It may feel like there is a huge gulf between the two. Just start brainstorming ways to get to that ultimate goal. They don't need to be realistic, just write down all of your ideas.
Once you have done that for each area go back and choose one small change you can make today to make progress towards your vision. 
Disclosure: Please note that some of the links on this site are affiliate links and I will earn a commission if you purchase through those links. These are all resources that I am recommending because they are helpful and are companies that I trust, not because of the commissions that I may earn from you using these products. Please do not spend money unless you really need the resource and it will help you reach your goals.


The following two tabs change content below.
Lori Thayer is passionate about finding ways to optimize life. As a step-mom of two teenagers, a full-time software tester and a momprenuer she knows how busy life can be. She is dedicated to finding ways to be more efficient and find tools to optimize life so that she can spend more time enjoying life with her family. She loves to hike, camp, read, learn about energy, wellness and online marketing as well as singing karaoke with her husband on the xbox at home.