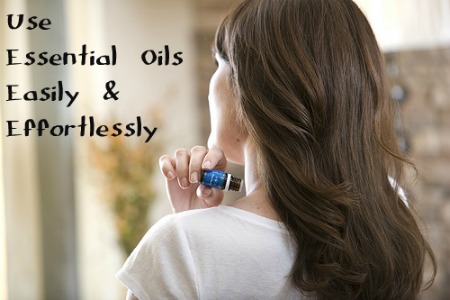 Use Essential Oils Easily and Effortlessly 
By: Lori Thayer
Don't you hate when you have something but keep forgetting to use it. You know you should but it is never available or feasible to do so when you think about it? It can seem difficult to use essential oils when you don't know how or what to use them for. You might a stomach ache but your peppermint essential oil isn't with you. Maybe you realize after a big argument that some Peace and Calming might have diffused the situation.
Essential oils can be a great aid for your health and even work as a natural first aid kit. One or two drops of a pure, therapeutic essential oil goes a long way. Here are some ways to use essential oils throughout your day effortlessly.
Apply them as part of your morning routine
When you get up and wash your face, this is the perfect time to apply some oils. Make it part of getting dressed for the day. I apply Joy over my heart, Yang Ylang or Abundance on my wrists and neck and White Angelica on my crown and down my body in a sweep.
Carry oils with you
Essential oils come in small packages so they are easy to take anywhere. However, if you want to carry a few with you it is wise to transfer them into a smaller pouch to carry along. I put my most commonly used oils in smaller vials and hang them from my purse. Having my oils nearby is how I was able to stop a racing heart with lavender essential oil.
Roll-on essential oils are a great way to use oils on the go as well, simply take the cap off and roll in on or inhale.
Another great way to use essential oils is to always have your oil with you is to wear jewelry that diffuses. I recently bought a diffuser necklace on Etsy. I love being able to have the scent of the oil waft up to me throughout the day. It has already kept me calm on stressful days. Watch my product review video of this essential oil necklace diffuser below.
Next I'll be looking for a bracelet diffuser option for the days I don't want to wear the necklace.
Diffuse in your home
There are many ways to diffuse in your home from simply adding a few drops of oil to a cotton ball and placing it in the cents to using a more expensive diffuser. I've used both methods. Nothing beats the lovely scent of oils cleaning the air in your home and promoting a healthy, enjoyable atmosphere.
Use Essential Oils in your bath
Lastly, use some oils in your bath. at night. Just add a few drops white the water is running, then relax and enjoy. I highly recommend Lavender for baths.
What are your favorite ways to incorporate essential oils into your day? Are you interested in more tips on how you can effectively use essential oils? Let me know in the comments.

Disclosure: Please note that some of the links on this site are affiliate links and I will earn a commission if you purchase through those links. These are all resources that I am recommending because they are helpful and are companies that I trust, not because of the commissions that I may earn from you using these products. Please do not spend money unless you really need the resource and it will help you reach your goals.   
The following two tabs change content below.
Lori Thayer is passionate about finding ways to optimize life. As a step-mom of two teenagers, a full-time software tester and a momprenuer she knows how busy life can be. She is dedicated to finding ways to be more efficient and find tools to optimize life so that she can spend more time enjoying life with her family. She loves to hike, camp, read, learn about energy, wellness and online marketing as well as singing karaoke with her husband on the xbox at home.