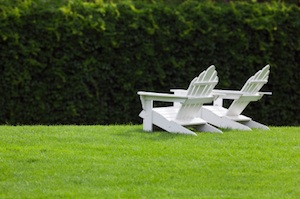 Natural Weed Killer To Keep Your Lawn Healthy
By: Lori Thayer
Avoid harmful chemicals by using Natural Weed Killer. Stop worrying about your children and pets playing in the yard because of pesticides.
Pesticides are harmful to people, animals and the environment.  Using pesticides can actually kill soil organisms that contribute to a healthy lawn.   If you have been using harsh chemicals to keep your lawn beautiful it can take a few years for the soil to recover.
The next time you need to tackle some weeds instead of using chemicals try these natural solutions :
Overseed the lawn in the spring to crowd out weeds.
Pour boiling water on the weeds (this works best on weeds that are separated from.
Use vinegar A great spray solution for this half water and half vinegar.  Spot treat weeds with this spray as it can burn plants and grass.
Picking the weeds.  This good old fashioned method still works.  Repeat pulling the weed a few times if you didn't get the roots.  If it is really hard to pull the roots out consider soaking the ground first to make it easier.  NOTE: I spent several summers as a child with daily 20 minute weed pulling duty. Feel free to try this on your own children.
Reseed areas where weeds have been pulled.
Target weeds before they grow with Corn Meal Gluten. This non-toxic product can kill weed seedlings within days of application.  Research shows a weed decrease of as much as 60% the first year of use and up to 90% after several years.

Stop raking or bagging your clippings.  Leaving the grass clippings on the lawn is equal to one application of fertilizer.  The clippings provide valuable nutrients to your areas are beginning to ban yard waste from the landfill.
Set your mower at a higher level.  Setting the blade to 3 inches will help reduce herbicide (weedkiller) use. Taller grass is more stress tolerant, provides shade which can lead to less weed germination and has larger roots which allows the grass to soak up more water and nutrients. 
Go forth and beautify your lawn naturally.  Please report back in the comments and let us know how great your lawn is with a little natural care.
Disclosure: Please note that some of the links on this site are affiliate links and I will earn a commission if you purchase through those links. These are all resources that I am recommending because they are helpful and are companies that I trust, not because of the commissions that I may earn from you using these products. Please do not spend money unless you really need the resource and it will help you reach your goals.


The following two tabs change content below.
Lori Thayer is passionate about finding ways to optimize life. As a step-mom of two teenagers, a full-time software tester and a momprenuer she knows how busy life can be. She is dedicated to finding ways to be more efficient and find tools to optimize life so that she can spend more time enjoying life with her family. She loves to hike, camp, read, learn about energy, wellness and online marketing as well as singing karaoke with her husband on the xbox at home.