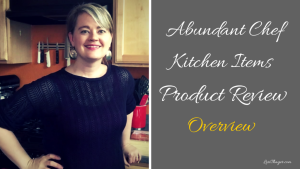 Eco-friendly and affordable kitchen items are desirable in any kitchen. Abundant Chef has provided a variety of items for us to review. In this article watch two video reviews exploring and using these products.
In the first video we will unbox and unwrap the items from AbundantChef.com. This includes a set of 3 bamboo cutting boards, oil to oil the bamboo boards, silicon heat-resistant gloves and a set of 4 ceramic knives and a ceramic peeler.
In the second video I put the items to use. The silicon gloves are used to pull a measuring cup with a handled in and out of the oven while I melt butter for cookies. I also used the gloves to pull the baking sheets in and out of the oven. With the ceramic knives I cut up several different kinds of vegetables. Check out the videos to learn more about the Abundant Chef products.
If you are interested in any of the items from AbundantChef.com you can get a coupon here or use one of these codes: 5off30 or 10off50.
What are your favorite kitchen products? Share them with me in the comments.

Disclosure: Please note that some of the links on this site are affiliate links and I will earn a commission if you purchase through those links. These are all resources that I am recommending because they are helpful and are companies that I trust, not because of the commissions that I may earn from you using these products. Please do not spend money unless you really need the resource and it will help you reach your goals.  
{ 0 comments }